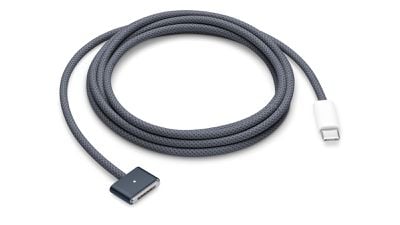 Apple has made its USB-C to MagSafe 3 charging connection available in three new colors that match the MacBook Air, including space gray, midnight, and starlight, for a price of $49. The cable was previously exclusively available in silver.
Apple currently provides a color-matched MagSafe 3 charging cable in the package with the new MacBook Air; however, the cable may now be purchased separately from Apple's online shop for those who desire an additional cable or need a replacement.
The connection is also compatible with the 2014 MacBook Pro models with 14- and 16-inch displays. Customers who purchased a new space gray MacBook Pro will now be able to purchase a matching space gray MagSafe 3 cable, despite Apple's rather unexpected decision to provide a silver cable with the space gray model.
I'M USING MAGSAFE FOR THE FIRST TIME SINCE I PURCHASED THE NEW MACBOOK PRO (AT HOME, I CHARGE IT THROUGH A TB3 MONITOR), AND I MUST CONFESS – THEY SHOULD HAVE MADE IT BLACK/SPACE GRAY TO MATCH THE LAPTOP.
— DANIEL MARCINKOWSKI (@DMARCINKOWSKI_) JANUARY 4, 2022
MagSafe technology enables magnetic cable attachment to a MacBook. If someone trips over the cord, it will release, preventing the MacBook from falling over. The two-meter-long cable has a braided construction for increased durability.
The new MacBook Air is now available for preorder in advance of its July 15 release. The notebook has been updated with a slightly larger 13.6-inch display, a notch, and flatter edges, and is powered by Apple's new M2 CPU. The previous-generation MacBook Air with the M1 processor remains available for $999.